HYDROSTATIC
TEST PUMPS

GAS POWERED
HYDROSTATIC TEST PUMPS
Our gas-powered test pumps are the optimal solution for certifying newly installed or repaired water lines, sewer lines, commercial sprinkler systems, and pressure vessels. All gas-powered hydrostatic test pumps are equipped with Briggs & Stratton INTEK Pro™ or Honda engines that are fully backed by their manufacturers' warranties, so you know you'll have the reliable power to tackle any job.
For maximum durability, recirculating systems provide pump protection as well as water conservation for efficiency. All our units come standard with a 10-foot, high-pressure output hose and a 10-foot suction hose with strainer. Our pumps come standard with wheeled carts, so you can easily take them where the work is. Cage type units are also available.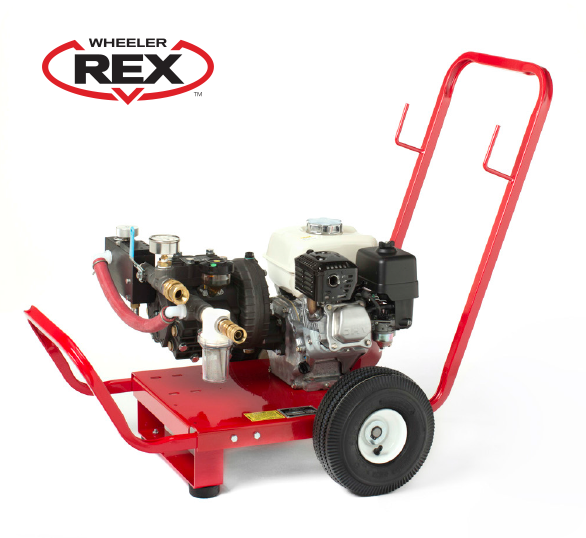 ELECTRICALLY POWERED
HYDROSTATIC TEST PUMPS
Whatever your needs, our electrically powered hydrostatic test pumps are ready to meet the challenge. Ranging from compact, hand held-units to robust cart-based systems, this series of pumps supply power where you need it – whether testing and certifying sprinkler lines, commercial plumbing installations, or industrial systems.
With smooth, quiet operation, our electrically powered pumps provide a comprehensive, best-in-class testing solution, meeting industry needs with the highest quality products we can make.

MANUAL POWERED
HYDROSTATIC TEST PUMPS
WHEELER-REX Manual Hydrostatic Test Pumps are a simple, reliable solution for testing residential water lines, pressure testing small tanks and sprinklers, and boiler and solar systems. These lightweight units feature a standard 3/4" garden hose female inlet and a 9/16" – 18 JCF male outlet, a shut-off valve, gauge, and an adjustable internal relief valve, as well as a 10-foot output hose – giving you the flexibility you need to tackle any job.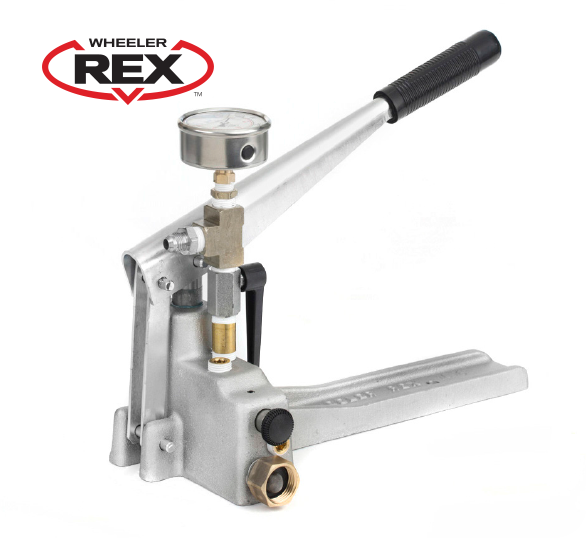 SPECIALTY
HYDROSTATIC TEST PUMPS
For specialty applications including ultra-high pressures, fire hose testing, and trash pumps, we have specialty hydrostatic test pumps designed to meet these tasks head on!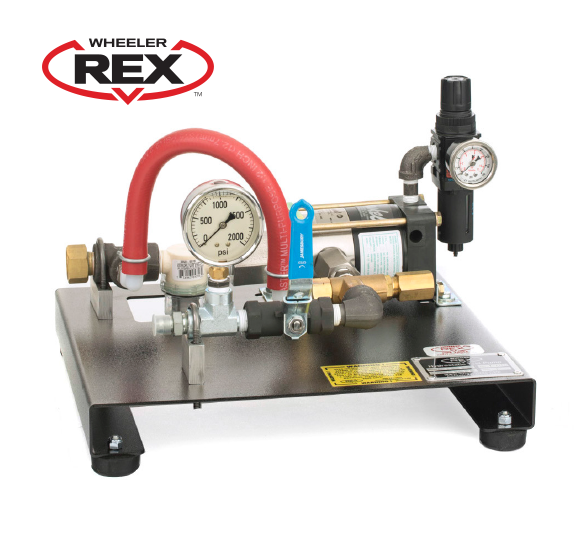 WE TAKE
QUALITY PERSONALLY.
Fame is not our mission. The average person may not have heard of WHEELER-REX. That's just fine with us. We have been quietly producing the very best, handmade, personally inspected and serviced tools for water works and plumbing contractors since the 1950s.
Our Premium Hydrostatic Test Pumps are designed to meet the demands of the contractors we serve. With decades of experience, we know the challenges you face. Every WHEELER-REX hydrostatic test pump is designed and built from the ground up to meet those challenges and more. We individually inspect every pump we make, so you'll never have to worry with WHEELER-REX.